Session 9A: Education Issues & English-Speaking Indigenous Communities
Education and Indigenous communities
Indigenous languages
Educational professionals
Elementary schools
Translanguaging
1:50 PM, Friday 5 Nov 2021 (50 minutes)
Virtual session
This session is in the past.
The virtual space is closed.
Moderator: Lina Shoumarova, Knowledge Mobilization Coordinator, QUESCREN
Speakers:
Cathy Martin, Independent Consultant
"Indigenous Education Initiatives in Quebec"
This presentation will begin with an overview of a new National Indigenous organization for Education Administrators. The First Nations Education Administrators Association was established in 2019 to provide capacity-building through peer-learning and networking. The FNEAA is a gathering place for its members to discuss the issues First Nation Education Administrators encounter when advocating and delivering First Nation education through our cultures and languages. As well, negotiating partnerships with provincial education authorities is prominent. Membership of FNEAA is comprised of principals, directors of education, and other educational authorities, both Indigenous and non-Indigenous who interact with First Nation students and education systems. This Indigenous Initiative is National inclusive of Quebec First Nations. The presentation will conclude with the sharing of best practices in Education Initiatives implemented by First Nations including Nations within Quebec.
Loretta Robinson, Naskapi Curriculum Coordinator, Jimmy Sandy Memorial School
"Indigenous Language and Identity in the Classroom"
This presentation will discuss an intergenerational project done in a Naskapi school in the remote community, Kawawachikamach, located in northeastern, subarctic Quebec. The project will reflect on the importance of plurilingual pedagogies for First Nations language learning practices; specifically, we will examine a case of Grade 3 students who have a strong oral use of the Indigenous language, Naskapi. The presentation will illustrate how a learning community can create space for translanguaging and critical literacy skills as students produced identity texts in multiple languages (Cumminns, 2005; Velasco and Garcia, 2014). This project, which involved grandparents who are the foundation of the Naskapi culture, allowed students to use both the Naskapi and English languages simultaneously. Over the course of the project, students began to take ownership of their learning, identified themselves as writers, shared their strategies for learning different languages and showed signs of developing metalinguistic awareness. This intergenerational project revealed how language, culture, power and identity intersect in the school setting. The learning experience of teacher and students will be shared during the presentation.
Speakers' bios:
Dr. Cathy Martin, Ed.D. is a Mi'gmaq Grandmother from Listuguj First Nation. Dr. Martin has a Doctorate Degree in Educational Leadership from the University of Phoenix. She is currently an elected member of council for the Listuguj Mi'gmaq Government. Dr. Martin has published in 2019: "STRENGTHENING CANADIAN INDIGENOUS RELATIONHIPS AND DECISION-MAKING PROCESSES." She is currently employed with the First Nations Education Administrators. She is also a member of the QUESCREN.
Loretta Robinson is a Naskapi Cree educator from the Naskapi Nation of Kawawachikamach of Quebec and member of the Pimicikamak Cree Nation of Manitoba. With a graduate (M.Ed.) and an undergraduate degree (B.Ed. and B.A.) from Bishop's University, Loretta works with a variety of school boards and universities on integrating Indigenous ways of knowing in learning settings, Indigenizing the curriculum and preserving Indigenous languages in the early years. As one of the creators of Quebec Teacher Competency: Valuing Indigenous Pedagogy, Loretta uses this framework to support teachers in applying a culturally responsive approach in school settings.
The Education and Vitality Forum is now on Twitter! Use the handle @QuescrenForum21 to tweet your highlights from the presentations and best practices learned, to comment on a tweet or to share a question from each session or panel you attend throughout the Forum. Those who tweet – and especially tweet multiple times each day – will be entered into our Twitter Giveaway for a chance to win a FREE COPY of QUESCREN's new book The Charter: Bill 101 and English-Speaking Quebec! Let's share our knowledge together and engage and learn from one another throughout the Forum.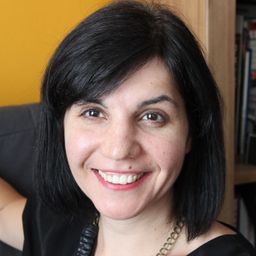 QUESCREN, Concordia University
Knowledge Mobilization Coordinator