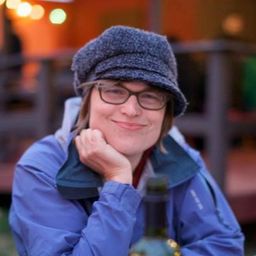 Erica Hargreave
Documentary Storyteller - Interactive Media Producer - Instructor - Student
StoryToGo
Erica Hargreave is an award-winning storyteller and educator with Ahimsa Media and BCIT, who enjoys experimenting with utilizing different forms of technology in both her storytelling and her teaching. She is passionate about using stories to provoke thought, inspire the imagination, and bring education to life. With that she relishes in the art of storyworld development and building niche communities to those storyworlds. These are all things that she loves to teach, helping others to make their dreams a reality.
These days, Erica is busy exploring Experiential Media, Accessibility in Online Learning, and Sustainable Funding Models for Creators and Open Education as a student doing a Master of Educational Technology.
Sessions in which Erica Hargreave participates
11:30 AM - 12:30 PM | 1 hour
Workshop
2:15 PM - 3:15 PM | 1 hour
Workshop
3:30 PM - 4:30 PM | 1 hour

Is these such a thing as Learning Experience Design? Pedagogical Innovation: Bridging the Research-Practice Chasm, Rob Cassid...
Sessions in which Erica Hargreave attends
3:30 PM - 4:30 PM | 1 hour

Course Flow: A Visual Design Tool to Align Program, Course and Pedagogical Design, Rob Cassidy, Concordia University;

Talk
10:00 AM - 11:15 AM | 1 hour 15 minutes

We all want to make the world a better place, but most of us don't know where to start. Our keynote, Amy Fish, can turn a raving rant into a compla...

Keynote
12:30 PM - 1:00 PM | 30 minutes

The password is: Hello!DescriptionWelcome to the Hallway via the platform Wonder! This networking platform is...
1:00 PM - 2:00 PM | 1 hour
Workshop
2:15 PM - 3:15 PM | 1 hour

Esports on Campus: From idea to Implementation, Jonathan Easton, SUNY Empire State College; Charles Murray III, SUNY 

Talk
11:15 AM - 12:15 PM | 1 hour
Talk
12:15 PM - 1:15 PM | 1 hour

The password is: Hello!DescriptionWelcome to the Hallway via the platform Wonder! This networking platform is...

Talk
12:45 PM - 1:45 PM | 1 hour