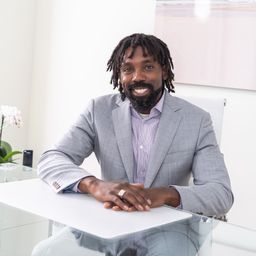 Khan Bouba-Dalambaye
Guidance Counsellor
Lester B. Pearson School Board
Khan is a leading expert in EDI programs for companies, academic institutions, and other public and private organizations, as well as a licensed counsellor providing individual therapy in-person or remotely with a focus on individuals and couples for personal therapy and a Psychology instructor at the CEGEP level. Currently, he has been contracted by McGill University to help support them in the design & implementation of their Anti-Black Racism Plan. Khan specialized in multicultural counselling, stress management, anxiety & depression, and interpersonal relationships.

He has designed a programmatic approach for staff of community organizations, with ability to create tailored engagements for each groups' specific needs. Experienced in delivering on-site trauma debriefing for corporate clients. Created psycho-educational program for community organization, targeting school-aged children.

He isan expert speaker and presenter for conferences and webinars focusing on issues of diversity and inclusion. Advisor to media on EDI topics.
Sessions in which Khan Bouba-Dalambaye participates
Available Sold out Ticket sales have finished Ticket sales haven't started yet You've purchased a ticket
1:45 PM - 2:40 PM | 55 minutes

In this session the participants will listen to a short talk given by Khan Bouba-Dalambaye, and Samantha Bizimungu. Ms.Bizimungu and Mr. Bouba-D...

Workshop