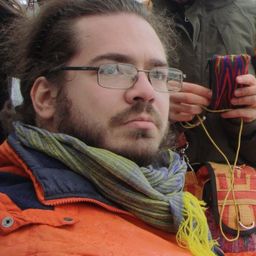 Anton Dorso
Senior Teacher
International Association of Synaesthetes, Artists and Scientists, Moscow State Pedagogical University
Anton V. Sidoroff-Dorso is a Moscow-based linguist and psychologist. He received a full specialist degree in linguistics and language acquisition and studied for a post-graduation degree (Candidate of Sciences) in psychology at Moscow Pedagogical State University, with a dissertation on individual differences in people with synaesthesia. His research focuses on general psychological and neurocognitive aspects of synaesthesia, synaesthetic mechanisms as viewed in the frameworks of cultural-historical psychology and developmental biocultural co-constructivism.
Anton is a founding board member of the International Association of Synaesthetes, Artists, and Scientists (IASAS). He has served on the board of the Artecittà Foundation as its International Coordinator since 2012, and is a member of the editorial board of the international Synesthesia Journal (Artecitta). He also founded the Russian Synaesthesia Community and supervises its web-resource synaesthesia.ru. and initiated and manages the data-base of Russian-speaking synaesthetes (now approx. 800 people). Anton translated and adapted the Russian-language version of the worldwide multilingual online Synesthesia Battery (Baylor College of Medicine, Eagleman Lab). He is also a co-author of anthropology of synaesthesia, author and developer of Synaesthesia Quotient and a related multi-scale test battery. Additionally, he is the co-editor of the Leonardo Bibliography list: Synaesthesia in Art and Science of the interdisciplinary journal Leonardo (MIT) and participated as key speaker in the production of science documentaries on the senses and synaesthesia. He was the initiator and main organiser of the IASAS Moscow Conference Synaesthesia: Cross-Sensory Aspects of Cognition across Science and Art held collaboratively by IASAS, the Moscow State University of Psychology and Education, the Tchaikovsky Moscow State Conservatory, the Museum of Moscow and the Russian Synaesthesia Association.
Anton is also head of the synaesthesia research group at the Centre for Multidisciplinary Research of Contemporary Childhood of the Moscow State University of Psychology and Education.
---
Sessions in which Anton Dorso participates
Sessions in which Anton Dorso attends