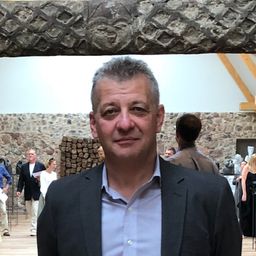 Pavel Ivlev
executive director
KRES Poliskola
Pavel Ivlev, Executive director of KRES Poliskola
Born in the town of Khimki, Moscow region, USSR, in 1970. He is a dual US and Russian national, and an attorney admitted to practice law in the Russian Federation since 1993. Ivlev graduated in law from Lomonosov Moscow State University in 1993 and later continued his legal studies at Columbia University Summer Law School in Amsterdam (1993) and at Queen Mary College of the University of London (1995).
Since 1997, he has been a partner in the Moscow law firm ALM Feldmans, which clients, among others, included Boris Berezovsky and his family, Mikhail Khodorkovsky and Platon Lebedev, Group Menatep Ltd and Yukos Oil Company, as well as other senior figures of Menatep and Yukos. In 1997-2004 the firm was well known as the external counsel for Yukos.
In November 2004, the offices of ALM Feldmans law firm were raided and searched by Russian government agents led by the investigators from the General Prosecutor's Office. The investigators demanded that Feldmans provided them with literally everything related to Yukos or Menatep, contained in its attorney files. Soon after ALM Feldmans was effectively destroyed by the broader attack on Yukos and its advisers and ceased to exist in 2005. A district court in Moscow issued an arrest warrant for Ivlev in 2005 on charges of embezzlement and money laundering, identical to those against Khodorkovsky and Lebedev, who were charged with the same in 2007. Ivlev had refused to give (false) incriminating evidence against his clients. In May 2019 he was convicted in absentia by a Moscow court for 10 years of imprisonment.
From 2010 to 2014 Ivlev was executive director of Institute of Modern Russia – a New York-based think tank organized by Mikhail Khodorkovsky and his son Pavel Khodorkovsky. In 2016 Ivlev became executive director of KRES Poliskola, an educational non-profit organization with offices in Riga, Latvia and Brooklyn, New York.
In 2004, as a result of wrongful persecution, Ivlev was forced to leave Russia for New York City, where in 2009 he founded the Committee for Russian Economic Freedom to campaign for free market and civic freedoms in Russia.

For the past quarter of a century it has been Pavel Ivlev's primary duty, as both a professional in the field of law and as a human-rights activist, to study and analyze legal, political, social, and economic situation in Russia in order to consult and guide his clients from all over the world, including businesses and educational institutions. He has participated as a panelist or speaker in dozens of conferences on Russia and Russia-related human rights issues, including persecution of dissidents and human rights leaders, and been extensively interviewed or cited by world leading media outlets.
Since 2005 Pavel Ivlev lives in New Jersey, USA.