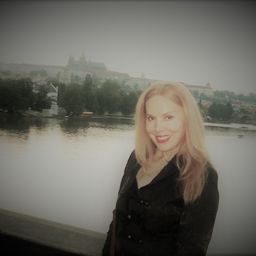 Alena Aissing
Librarian/ Curator
UCLA Research Library
---
Alena Aissing - Librarian/Curator for Slavic, East Europen and Eurasian Studies, UCLA Research Library
aaissing@library.ucla.edu
Alena Aissing became UCLA librarian/curator on April 1, 2019. Throughout her career, Alena has focused on supporting students, faculty and staff in advancing their research and teaching information needs and building collections and services.
Alena came to UCLA after working over 20 years as associate university librarian at the University of Florida, where she was instrumental in building Slavic, Eastern European, Eurasian, Germanic and Scandinavian collections. She has been providing academic research assistance, teaching library specialized instructions, outreach and scholarly communication.
Alena is the lead for User Engagement Students Suporvisors - Charles E. Young Research Library Team - hiring, training and supervising library student assistants who provide a wide variety services, especialy shared research assistance and digital refence.
Her focus has been developing an innovative community outreach through cultivating and fostering a partnerships with faculty and many organizations in Los Angeles, for example the Wende Museum and the Consulate of the Czech Republic, Germany, etc. Through these collaborations, she developed international programs:
These programs were entitled:
1989: The Fall of the Berlin Wall and the Rise of the Velvet Revolution Exhibition and program, Powel Library, November 2019-March 2020.
"Man, Universe and Love: Poetry Performance of Imadeddin Nasimi." Featuring poetry recital accompanied by mystical Sufi music, February 2020.
"Robot is 100: The Influence of the Sci-fi Play - "R.U.R." on Many Art Forms and the Future of Robotics." Virtual webinar, digital exhibition and audio, February, 2021)
"The History of Belorussian Vyzhyvanka – the Art of Rufina Bazlova." Webinar and digital exhibition, March 2021)
In her role at University of Florida, Alena served as the primary liaison librarian to the Department of Languages, Literatures and Cultures: Slavic and Eastern European Studies; Germanic and Scandinavian Studies, Department of History (European Section), and the Center for European Studies (all European languages and Area Studies). Through these strategic partnerships, she collaborated on several projects that fostered engagement, promoted library services and improved access to information. For example, Alena designed and organized a multi-level educational program in 2007, in conjunction with the International Roma Day, for both the University of Florida campus and for the community entitled: "Life among the Romanies: The Heroic Past and Present." http://ufdc.ufl.edu/romanies
One of Alena's major contributions to support diversity and to promote teamwork was the development and coordination of a library service program for the University's 2010-2013 International Education Week (IEW), which was designed to engage approximately 5,000 international students at the University of Florida.
In 2012, Alena was the winning receiver of University of Florida Faculty Enhancement award. This allowed her to upgrade her knowledge about a holistic approach to digital collections by taking post-graduate modules in Digital Humanities and Digital Cultures at King's College in London, UK.
SELECTED PUBLICATIONS
Alena Aissing. How Brands Connect with Consumers: Building Library's Community with Social-Business Media Tools. "Information in e-motion". Proceedings BOBCATSSS 2012 – 20th International Conference on Information Science. Amsterdam, 23-25 January 2012. Bock+Herchen Verlag, Bad Honnef, Germany. ISBN: 978-3-88347-287-4.
Alena Aissing, "International Education Week: Celebrating the Benefits of International Education and Exchange." Book chapter for a book entitled International Students and Academic Libraries: Initiatives for Success. Chicago: Association of College and Research Libraries (ACRL). 2011. ISBN: 978-0-8389-8593-9
Aissing, Alena, Richard Saltzburg. "European Romanies: A Collaborative Educational Program at the University of Florida Libraries." Slavic and East European Information Resources. Vol. 10, issue 1, 2009, pages 61-72.
Aissing, Alena. "Bibliographic Control of Foreign Languages: The Case of Displaying Cyrillic Characters in Online Catalog at the University of Florida Libraries" Bridging the Digital Divide: Libraries Providing Access for All -18th BOBCATSSS 2010 Symposium: University of Parma, Italy, January 25-28, 2010. University of Parma: Università degli Studi di Parma:
---