Latest News
ASEEES Travel Grant for the 2020 World Congress
ASEEES is able to offer a limited number of grants to subsidize travel costs for ASEEES members to present their papers at the 2020 ICCEES World Congress in Montréal, Canada. Applications will be judged on intellectual merit of the paper topic with a broader view to disciplinary and regional balances. Where possible, priority will be given to applicants who would be first-time ASEEES travel grant recipients or junior scholars whose institutions offer limited funding.
GRANT AMOUNT: Up to $500 USD

Please see the ASEEES website for more details: bit.ly/2JYX1oG



Award for the Promotion of International Cooperation in Central and Eastern European Studies
We are pleased to announce that the winner of the first award for the Promotion of International Cooperation in Central and Eastern European Studies will be announced at the 10th Congress next year. For details and information about how to apply for the award, please see:
bit.ly/2YMQ0NJ
East Asian Member Associations Promote Participation in Montreal 2020
The 10th East Asian Conference on Slavic Eurasian Studies (University of Tokyo, 29-30 June, 2019) has announced that it will hold its 11th meeting only in 2021. This is in order to encourage members of the Japanese, Korean, and Chinese associations to submit proposals and register panels for next year's World Congress in Montreal.
ICCEES commends this important strategic decision, which demonstrates exemplary commitment to Central and East European Studies as a global community of scholars. Together with our East Asian partners we are working hard to obtain financial support for a high level of participation in next year's congress by all our member associations.
Georges Mink, ICCEES President, and
Andrii Krawchuk, Vice-President and Co-Chair of the Organising Committee


Opening of the Bayramov Exhibit by Ambassador Dr. Meret Orazov
The Organising Committee is pleased to announce that Dr. Meret Orazov, Ambassador of Turkemenistan to Canada and the United States, has agreed to deliver an opening address at the Durdy Bayramov: Artist, Photographer, and Ambassador of Turkmen Cultural Life exhibit.

More details to come, but please see the website for details on the exhibit:
bit.ly/2FlBTHr




Keynote Speaker Announcement: Mikhail Khodorkovsky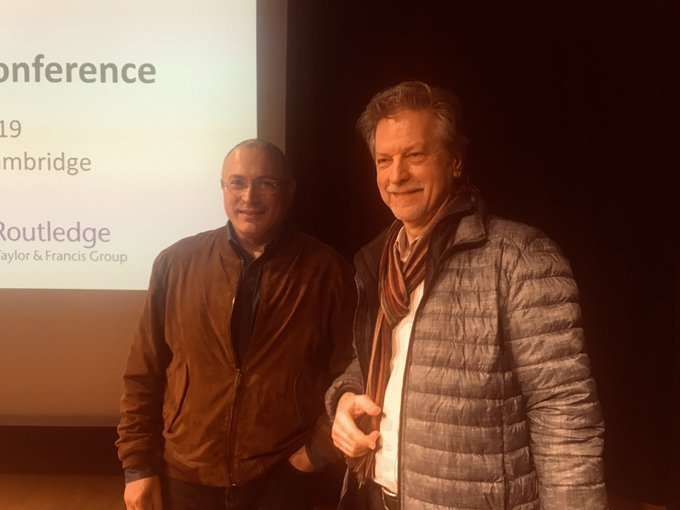 The Organising Committee are pleased to announce that Mikhail Khodorkovsky has agreed to be a keynote speaker at the upcoming Congress. He is pictured above with Co-Chair of the Organising Committee, Andrii Krawchuk at the 2019 BASEES Conference at the University of Cambridge.
More details to come in the following weeks.




For Ph.D. Students attending World Congress 2020 in Montreal
At its May 23, 2019 meeting in Montreal, the Executive Committee of ICCEES allocated $45,000 (CAD) to cut registration fees by $250 (CAD) for students completing their Ph.D. or within two years after completion, and who are based outside of North America.
ICCEES hopes that this example will inspire sponsors and donors to contribute generously to reduce travel and accommodation costs for scholars who need assistance in order to attend the Congress.
Andrii Krawchuk, Co-Chair, Organizing Committee and Vice-President, ICCEES




Funding Opportunity for Canadian Graduate Students
The Canadian Association of Slavists is delighted to announce that it will provide $6000 in funding assistance to Canadian graduate students whose proposals are accepted for the 10th ICCEES World Congress. The monies will reduce the registration fees to $50 CDN for 24 students. Both MA and PhD students are eligible for the awards.
L'Association canadienne des slavistes a le plaisir d'annoncer qu'elle offrira 6000$ en subventions aux étudiants diplômés canadiens dont les communications seront acceptées pour le 10e Congrès mondial de l'ICCEES. Les frais d'inscription de 24 étudiants seront réduits à 50$ CA. Ces subventions sont disponibles aux étudiants du 2e et 3e cycle.