Latest News
ASEEES Travel Grant Deadline Extension
The deadline has been extended until January 24, 2020. Please see our
Funding Opportunities
page for more details. For full details on eligibility and application process, please visit the
ASEEES website
.
Panel, Roundtable, and Individual Proposal System Open until 31 December, 2019
Thanks to all who submitted panel, roundtable, and individual proposals. Our Academic Program Committee will begin reviewing them shortly, and will communicate with you soon.
We are allowing more time to spread the word about the World Congress, so proposals will be accepted until December 31. Please let your colleagues know and encourage them to be part of our tremendous program in Montreal next August!




Oxford Russia Fellowship Program Submits Three Panel Proposals
We are delighted to announce that the Oxford Russia Fellowship Program has drafted and submitted proposals for three interdisciplinary panels at the World Congress in Montreal, each comprising four speakers and a moderator. The Organizing Committee wishes all the young scholars in this program success in the review process, which will be carried out by the Academic Program Committee shortly.




Exemplary Initiative by Oxford Russia Fund

The Oxford Russia Fellowship program supports early-career Russian researchers and academics whose work has a regional focus on Russia. The program is made possible by Oxford Russia Fund, both of which were created through the initiative and generosity of Mikhail Khodorkovsky. The Fellowship is managed by the Moscow-based Social Sciences Lab (SSL).
On 30 August 2019, SSL Director Julia Taranova informed me that the program will propose and sponsor three panels for the ICCEES Congress in Montreal from among its 2019-2020 fellows. This is tremendous news about a cohort of young scholars, who are preparing to attend Congress 2020. The best of success to them as they dive into their research and writing.
It is precisely through the joint efforts of the Oxford Russia Fund and other institutions and programs that promote the study of Russia, Central and Eastern Europe, and Central Asia that the World Congress will succeed in its goal of "bridging national and global perspectives".
Andrii Krawchuk, Vice-President and Co-Chair of the Organising Committee




Award for the Promotion of International Cooperation in Central and Eastern European Studies
We are pleased to announce that the winner of the first award for the Promotion of International Cooperation in Central and Eastern European Studies will be announced at the 10th Congress next year. For details and information about how to apply for the award, please see:
bit.ly/2YMQ0NJ
East Asian Member Associations Promote Participation in Montreal 2020
The 10th East Asian Conference on Slavic Eurasian Studies (University of Tokyo, 29-30 June, 2019) has announced that it will hold its 11th meeting only in 2021. This is in order to encourage members of the Japanese, Korean, and Chinese associations to submit proposals and register panels for next year's World Congress in Montreal.
ICCEES commends this important strategic decision, which demonstrates exemplary commitment to Central and East European Studies as a global community of scholars. Together with our East Asian partners we are working hard to obtain financial support for a high level of participation in next year's congress by all our member associations.
Georges Mink, ICCEES President, and
Andrii Krawchuk, Vice-President and Co-Chair of the Organising Committee


Opening of the Bayramov Exhibit by Ambassador Dr. Meret Orazov
The Organising Committee is pleased to announce that Dr. Meret Orazov, Ambassador of Turkemenistan to Canada and the United States, has agreed to deliver an opening address at the
Durdy Bayramov: Artist, Photographer, and Ambassador of Turkmen Cultural Life
exhibit.
More details to come, but please see the website for details on the exhibit:
bit.ly/2FlBTHr




Keynote Speaker Announcement: Mikhail Khodorkovsky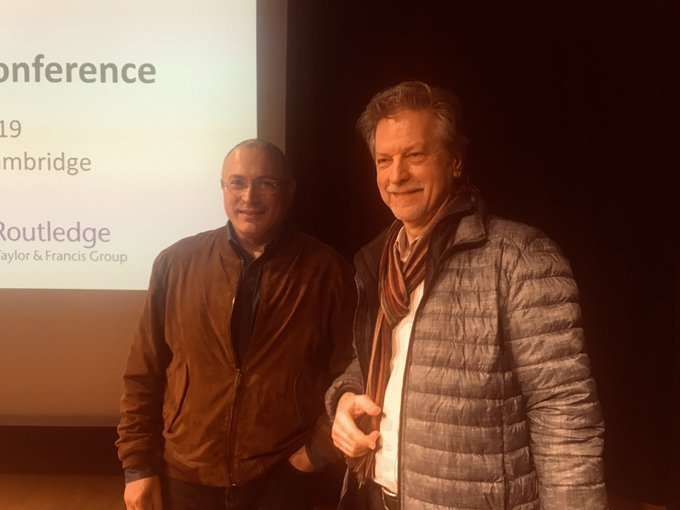 The Organising Committee are pleased to announce that Mikhail Khodorkovsky has agreed to be a keynote speaker at the upcoming Congress. He is pictured above with Co-Chair of the Organising Committee, Andrii Krawchuk at the 2019 BASEES Conference at the University of Cambridge.
More details to come in the following weeks.