Explore Wonder - networking platform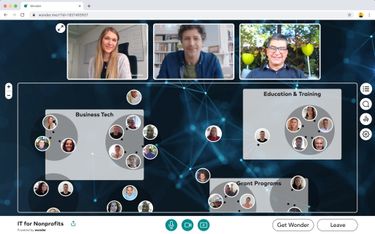 12:30 PM, Friday 1 Oct 2021 (30 minutes)
If you wish to continue the conversation on one of the unconference streams (teaching tools, MS 365, virtual events and digital productivity), explore Wonder, an interesting platform which is meant to simulate the live experience of informal networking.
---
Before joining the room...
Make sure Wonder is  the only conference/communication tool you have open, and no other applications/websites are making use of your camera or microphone.
Connect on desktop and laptop computers for the best virtual experience (Wonder does not function on tablets or mobile devices).

Ensure you have a 

stable internet connection

. We generally suggest no less than 15mbps.

Use a compatible device and browser: Google Chrome or Microsoft Edge.

Make sure your browser has the  

appropriate permissions

 and that you are not blocked by a 

Network Administrator, firewall, or VPN

.
Make sure you have not rejected video or audio access in your browser. Also, make sure your browser has video and audio access on your computer (system preferences of your operating system on macOS or Windows).

Try to open the room in a different browser 

and/or supported device.

 (Chrome and Edge are the two browsers supported).
Join Wonder room in 3 steps:
Click on the "Join virtual session" button

Take a snapshot – Click on the button and give us your best smile!

Enter the room and start exploring by moving your cursor (watch this 

video

 to learn how to move in Wonder)
For any issues, please add your comments in the discussion box below and we will be sure to address anything.